Valentine's Day Wine and Cheese Pairing Guide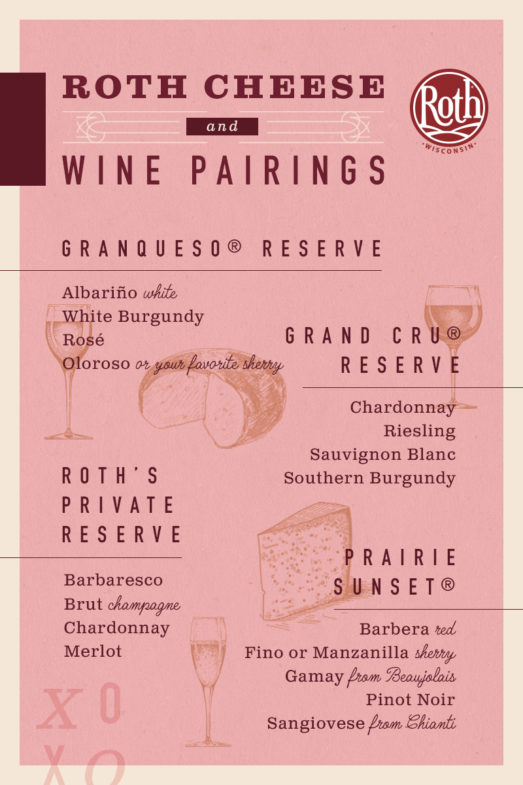 Peanut butter and jelly, ketchup and mustard, milk and cookies. Out of the all-time great food pairings, one reigns supreme: wine and cheese.
Wine and cheese is practically a Valentine's Day requirement. There's nothing more romantic (or libido boosting!) than cuddling up with your love over a deliciously crafted spread of Roth cheese paired with wine. To make this February 14th extra special, we've recruited Jordan Egan, sommelier and beer director at New York City's NoMad Hotel, to help us play cupid for some of our favorite Roth cheeses. Add in a few candles, comfy blankets and a toasty fire—you've got yourself the perfect Valentine's Day celebration.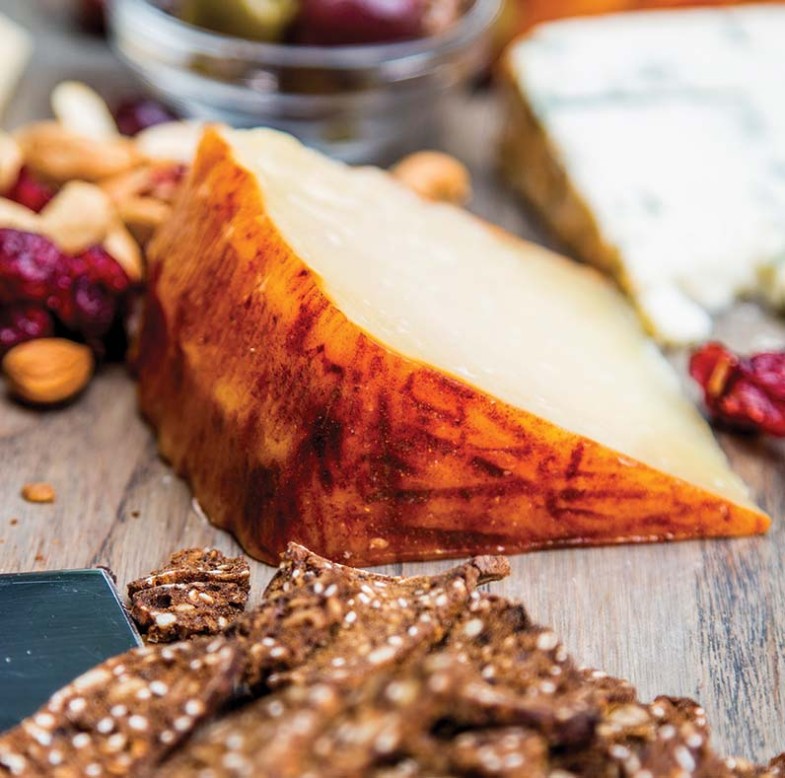 To start, try GranQueso® Reserve with a bottle of white. The hand rubbing of paprika and cinnamon on the rind lends this deeply intricate cheese to a more savory white wine, like a dry Albariño or white Burgundy. Rosé also works well, as do off-dry varieties of sherry, a fortified wine made from white grapes.
BEST: Albariño white, Rosé, White Burgundy, Oloroso or your favorite sherry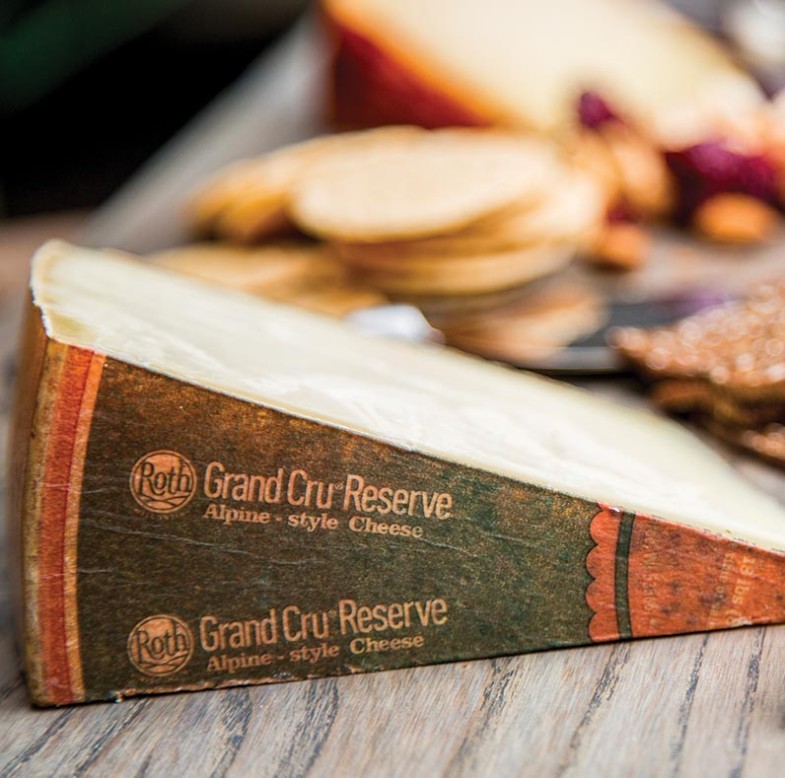 With Grand Cru® Reserve, we're dealing with subtle flavors that require a delicate balance. This alpine-style cheese boasts light floral notes and nutty undertones, so finding a wine pairing that doesn't overpower is key. White wines with a hint of sweetness hit the spot.
BEST: Chardonnay, Riesling, Sauvignon Blanc, Southern Burgundy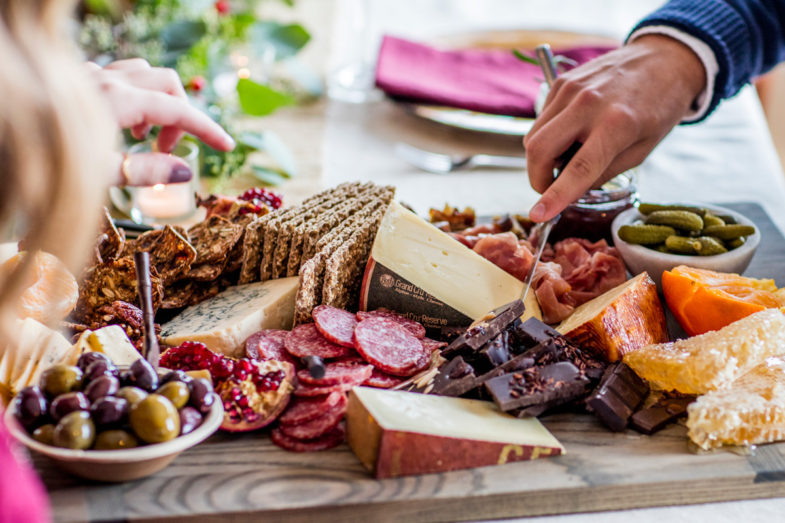 Roth's Private Reserve is bold, robust and the perfect coupling for an equally strong wine. Whites and reds both work here, like robust Chardonnays and lighter reds. If you're looking to indulge in a glass of bubbly, go for a vintage-style champagne, which means 100% of the grapes used are from that vintage year.
BEST: Barbaresco, Brut Champagne, Chardonnay, Merlot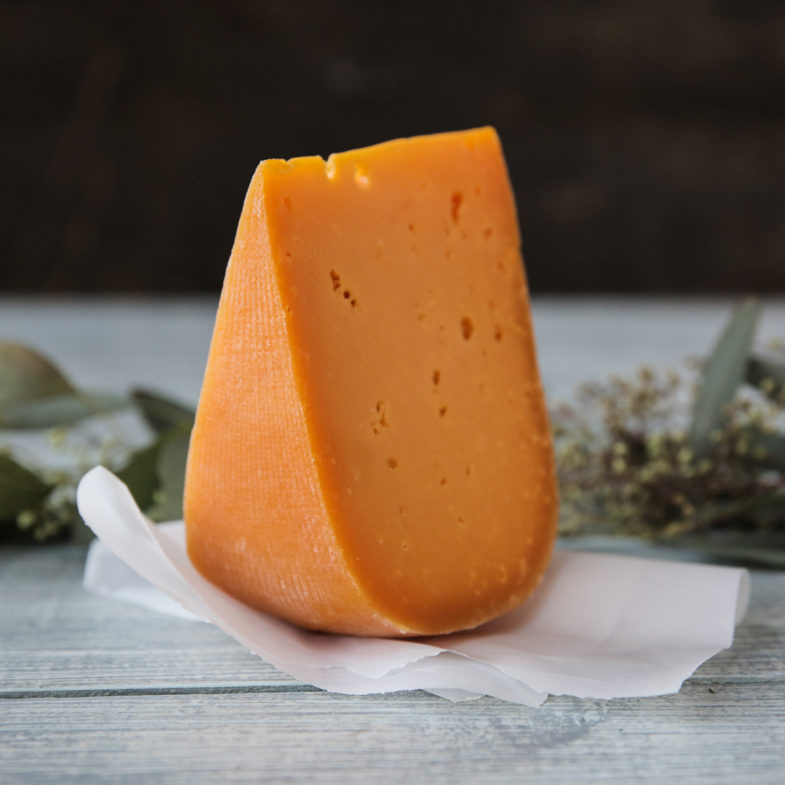 A classic table cheese, Prairie Sunset® is sweet and approachable, making it a versatile love match for an array of wines. With rich undertones of butterscotch, it's sweetness is a fitting Valentine's Day choice when paired with crisp, acidic reds and fresh styles of sherry.
BEST: Barbera red, Gamay from Beaujolais, Pinot Noir, Sangiovese from Chianti, Fino or Manzanilla sherry
Other Delicious Pairings:
Our Favorite Grand Cru Pairings